A Cultural Field Trip of Washington, D.C.
**********************************************************************
Egypt on the Potomac Walking Field Trip Series   
Discover secrets hidden in plain sight in Washington, DC by foot!  Adults Only Please.
>>>>>>>>>>>>>>>>>>>>>>>>>>>>>>>>>>>>>>>>>>>>>>>>>>>>>>>>>><<<<<<<<<<<<<<<<<<<<<<<<<<<<<<<<<<<<<<<<<<<<<<<<<<<<<<<<<<
Due to the popularity of our April 10 Special Event, we have established a series for the summer of 2021. All tickets must be purchased in advance via Eventbrite.
June 5, July 10, August 7, September 11, October 2
**********************************************************************
The Egypt on the Potomac Field Trip is a guided journey through Washington, DC that uncovers secrets hidden in plain sight. Did you know there is information and wisdom embedded throughout the visual make up of the city: in federal building architecture, street alignment, symbols on streets and buildings, and numerical patterns found throughout all of these elements, among others?
By examining this embedded information, and exploring aspects of African mythology, African American, American, and Washington DC history, the Field Trip illuminates the ancient Egyptian influence on the founding fathers of the United States of America, as well as their acknowledgement of the Nile Valley origins of civilization.
The walking Field Trip, which is sponsored by IKG Cultural Resource Center and was created by author and cultural historian Anthony T. Browder. A facilitator guides participants to understand the story of DC's history that is hidden in plain sight.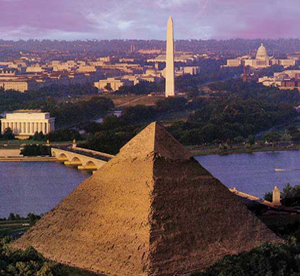 What You Will See
Nile Valley culture lives in the monuments of the District of Columbia. You will see evidence of ancient Egyptian architecture, symbolism and philosophy that has been embedded in various monuments throughout the city …literally hidden in plain sight. You will understand how the shape, orientation and location of the District of Columbia reveals a plan, crafted by America's founding fathers, designed to recreate the spiritual essence of Egypt along the Potomac.
The founding fathers of the United States borrowed aspects of Nile Valley symbolism and philosophy and wove them into the heart and soul of their new nation. Their intention was to recreate the spiritual essence of Egyptian civilization in America and along the banks of the Potomac River.
Egypt on the Potomac Field Trip FAQs